NO CAP & GOWN HERE. OUR GRADS WEAR HELMETS AND LEATHER
Never been on a bike? No worries! This class is about empowerment, realizing a dream, bringing out your inner bad self, and finding new confidence in yourself. And, you're not alone. You'll share a class with folks who have never ridden, passengers ready for a better view of the road, or folks just wanting a refresher course. Some already own a bike, and some are testing the road. From teachers, delivery drivers, and radio personalities to mechanics, accountants, nurses, and military, you'll find a spirit of camaraderie and support every day of class, and maybe a new friend for life.
What to expect. You'll find helpful videos and a list of FAQs below, but feel free to call if you still have questions or concerns. 
Make today that "someday" you keep talking about.
Still have questions? See the FAQ section below and send me an email! ridingacademy@ohiohd.com
WHAT TO EXPECT DURING YOUR HARLEY-DAVIDSON® RIDING ACADEMY EXPERIENCE
Now's the perfect time to get ready for Riding Academy. Get ready for your Harley Davidson classes, the classroom and range experiences.
FANFARE
"This course was by far the best experience I've ever had. I've learned new techniques, and my U turns at the start of the course, isn't the same now. The curriculum and training is second to none. I'll recommend to new and experienced riders. The instructors were amazing!! Thanks H-D." - Terron B, RCHD '21
"I really anticipated an boring class with some good info but possibly recurrency and repetition that can make a class "Long" - I was so wrong! Both instructors balance each other incredibly and made the class "Best Ever" Great instructors! Great info!" - Christopher B, RCHD '21
"Cathy was so great getting everything set up for the class. She really gave me a headstart by calling me in to practice on the Jumpstart before class started. Joe and Ken both were so friendly and respectable. I always felt comfortable which allowed me to concentrate on what really mattered and do the best I could!"  - Crystal S, RCHD '20
"The class goes down as one of the worthwhile things I've done; before 60. Jim and JD make a great team." - Ted M, RCHD '21
"I had no idea how much I needed this! I feel more confident riding now more than ever. " - Greg, RCHD '21
"Exciting, overwhelming, informative. I was intimidated walking into a class of mostly guys, but they were so supportive and ready with words of encouragement or friendly teasing. It was tiring, but time flew. Weird Bonus - I find I'm much more aware, even driving my car. Worth every minute." - HDRA Student, '19
"Wow! Densie and Connie are amazing coaches! They created a calm and motivating environment that allowed me to grasp each exercise and apply it almost seamlessly. I'm a first time rider and they were so patient and caring. ." -  Elisha C, RCHD '21 
FREQUENTLY ASKED QUESTIONS
I don't own a bike, can I still take the class: Yep! We provide the motorcycles. They are called the Street 500's, and best of all, each bike has a vehicle protection kit (which is a fancy way of saying orange bumpers), designed to protect you and the bike. 
Can I use my bike? No, sorry. We are only insured to use the bikes provided.
What if I'm too short or tall for the bike? We have different seats to help with our vertically- challenged students; we also have a seat to help with our tall people!
How many people are in the class? Class sizes can vary, but the maximum number of students in any class is twelve (12).   
Get your Temporary Motorcycle Learner Permit: You need to have a Temporary Motorcycle Learner Permit by your first class. Without this, you're unable to take the Riding Academy class. A temporary motorcycle learner permit allows you to ride solo during daylight hours on the roads not considered major highways. The permit looks like a regular driver's license and is valid for one year. Pick up a free study booklet at any of our dealerships or at your local BMV. Read, study, and take the closed-book, on-screen test at your local BMV. 
JumpStart: give yourself a jumpstart (see what we did there) before class even starts. Each dealership has the bike you'll ride in class, the Street 500, mounted on a specially-designed stand. Our trained team will help you mount the bike, set your boots on the pegs, and walk you through the basic workings of the bike. Then, it's time to fire up the engine.  You'll experience the unmistakable Harley rumble, and the feel of the clutch and throttle working together - all while safely and securely attached to the Jumpstart™ stationary platform. Just give me a call a week or so before your class and we'll get you scheduled to come in and get comfortable with the bike.
Build up those hand muscles: you may be surprised how tired your hands get after just a few hours of riding practice. Do yourself a favor; grab a racket or tennis ball, or a handgrip and build-up your grip stamina. It's one of the easiest things you can do to make a big difference in your skills training.
Your Temporary Motorcycle Learner Permit 
Having the best experience in class requires weather-appropriate, proper riding gear.  
D.O.T. Approved helmet (sticker on the back to prove it). A helmet is the most important piece of motorcycle gear you will invest in and the fit and comfort are very personal. Consider buying a helmet vs. borrowing one. A helmet that fits you perfectly provides the best protection, it allows you to focus on learning to ride. You're going to want help buying the right helmet for you and our Motorclothes team is trained to do just that. Come in and talk with one of them; don't be surprised if they suggest you wear the one you settle on around the dealer for about 15 minutes. In that amount of time, you'll know if that particular helmet will be comfortable in the long run. Typically helmets cannot be returned, so take the time to find the right one.
Eye protection. If your helmet doesn't have a face shield, you will have to wear eye sunglasses or clear glasses
Long sleeve shirt & or jacket;
Long pants (heavy denim recommended)
Full-finger gloves with no holes (motorcycle specific recommended)
Over-the-ankle boots (sturdy, not canvas, low heel)
Determination and a fun, can-do attitude
We have 3-day & 4-day classes depending on the dealership and date you pick. Date and time information is readily available on the Riding Academy class schedule. 
3-DAY ACADEMY CLASS
Day 1: 9a to 4p, paperwork & classroom-type atmosphere at the dealership. You'll receive a workbook and roadbook (the workbook is your study guide, the roadbook is a personal riding journal, our leather-bound gift to you)
Days 2 & 3: 8a - 4:30 or 5:30p each day, meet at the range area designated to practice riding skills. You'll be tired, so plan to get a good night's sleep after Day 2.
---
4-DAY ACADEMY CLASS
Day 1: Thursday, 6p-9p, paperwork & classroom instructions at the dealership. You'll receive a workbook and roadbook (the workbook is your study guide, the roadbook is a personal riding journal, our leather-bound gift to you)
Day 2: Friday, 6p-9p, classroom instructions at the dealership;
Days 3 & 4: Sat & Sun, 8a - 4:30 or 5:30p each day, meet at the range area designated to practice riding skills. You'll be tired, so plan to get a good night's sleep after Day 3.
One of the coaches will call you the week of your class to touch base with you. They will introduce themselves, confirm you have your temporary learner permit, and remind you to bring it on the first day of class. This is a great time to ask additional questions before you are in a group setting. Once you arrive at our dealership, one of our Sales associates will greet you and show you where to go for your classroom portion. 
We provide snacks in the classroom and on the range. Soda, tea, & water in the classroom, with water on the range. You are welcome to bring your own snacks and or beverages anytime during class.
There are restroom facilities at the dealership and the riding range.
Attendance is mandatory; so be on time and be prepared to stay for the entire class, each day. 
Successfully answer a minimum of 48 of 50-questions from the open-book review guide. Questions are based on material learned during class. 
Pass the riding-evaluation portion of the class with 10 points or less. 
Pass both portions, and you'll be able to print the certificate necessary to get your motorcycle endorsement from the BMV. Simply take the certificate, proof of identification and the necessary fee charged by the BMV and you're officially a card-carrying licensed motorcycle rider.
Hey, it happens. Everyone learns at their own pace. What's important is that you learn to ride safely and confidently; we'll be with you every step of the way. If you don't pass the riding skills portion, you will have three choices. Your Riding Academy Instructor will help you decide which is best for you.
Option 1: if the score is not passing, but within the guidelines, you may be able to take a same-day retest.
Option 2: If you choose to retest on another date, it must be completed within 30 days of your class. On that day, be sure to leave a few hours for practice time on our motorcycles before your evaluation. 
Option 3: You can choose to come back and take the entire class another time for free. If you've never ridden before, there's a lot of new information to absorb, and the riding skills days can be tiring. Though it's an additional investment in time, Option 3 can be a great choice for those that want more practice and confidence.
I will be sending you a welcome letter and 15% discount coupon so that you can purchase any riding gear that you may need for your class from any Ohio Motorcycle Group dealership. When you stop into the store to look for your riding gear, we have a few gals in our motor clothes department that will help with fitting you for your helmet and educating you on how your riding gear should fit. They are very helpful and enjoy what they do so, please let them help.
Both classes are designed to prepare you to be a smart, safe rider. Many coaches teach both State, and HDRA classes.
The State of Ohio class runs approximately 16 hours, which includes 4 hours of classroom time in one evening and 12 hours riding time with breaks every 2 exercises. They provide the motorcycles of different heights that you will ride, along with helmets. The cost is $50.

Harley-Davidson® Riding Academy (HDRA) classes are considered an introduction to motorcycling. Classes are approximately 23-25 hours long and include 6 hours of classroom and 16-18 hours on the range.  We provide snacks and water. In addition to lunch breaks, on riding days, you'll have 15-minute breaks between every 2 exercises. We will take some time at the of the last day of class to educate on how to move forward with your riding adventure while having a celebration snack, and giving away some small graduation mementos and fun certificates. Our cost is $150-$300. The difference between our class and the state is you have more practice on the riding range.
Riding Academy classes take place rain or shine, hot or cold. Be ready for whatever your local weather might have in store for you. In the event of dangerous weather, the class will be halted and arrangements will be made to adjust the schedule around the weather if possible. If the weather results in a class being canceled, I'll contact you to reschedule.
Contact me as soon as possible to get rescheduled into another class. 
In addition to various promotions, we are proud to offer a variety of discounts, including veterans, active military, first responders, and small & large groups.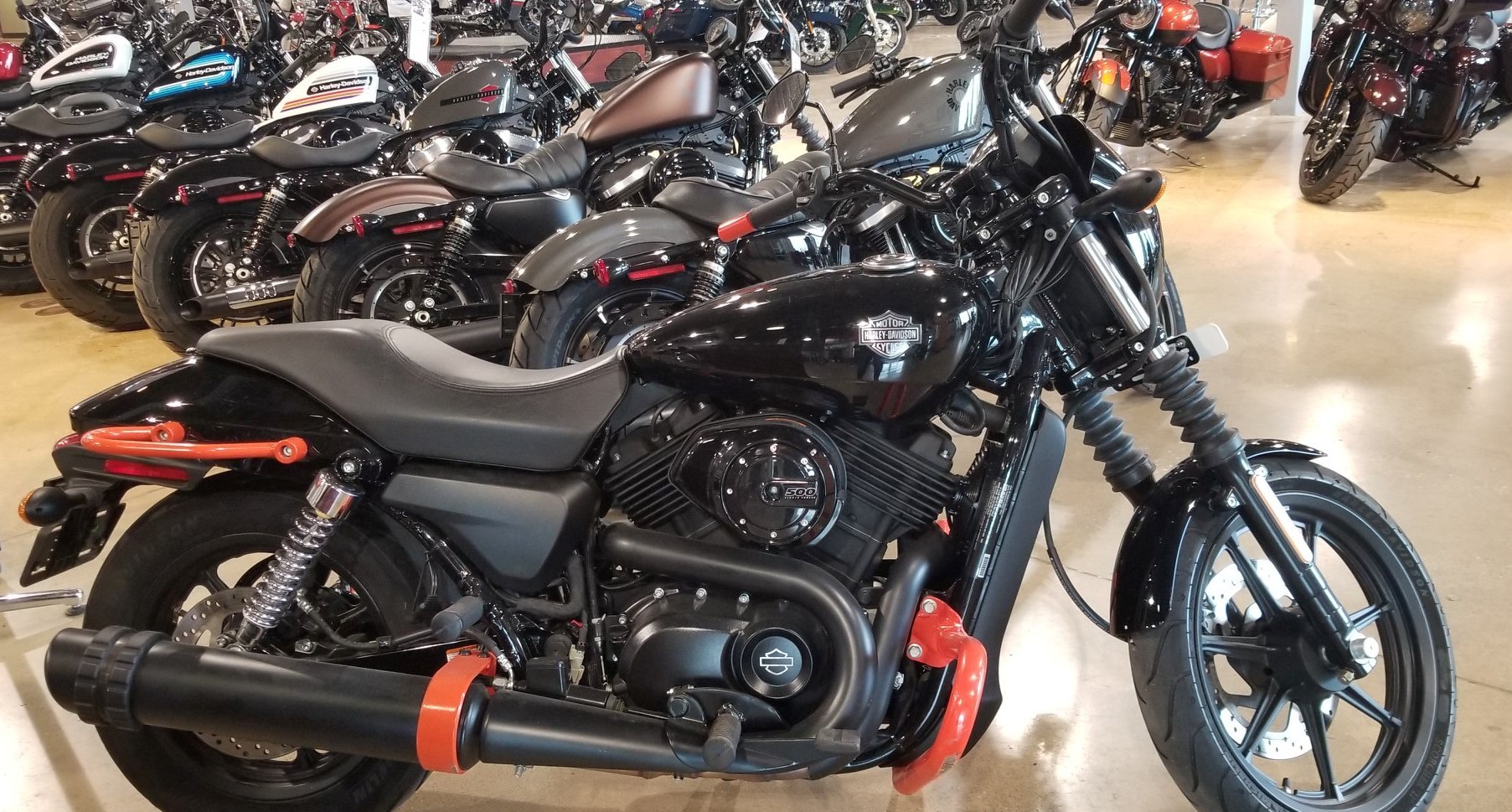 "Bumpers" protect you (and the bike)
a Personal journal to track your progress 


RIDING TRAINING GRADUATE FINANCING PROGRAM
Riders who complete the Harley-Davidson® Riding Academy Course can take advantage of special financing options which include no down payment or rates as low as 3.49%* and flexible terms.